Cat Flap Step
Cat Flap Step has been developed to provide a unique solution to the problem of pet flaps being installed too high up in the door or window. The step is attached using either self-adhesive or screw fittings (supplied) to PVCu, glass, wood or brick. Before ordering, please read the 'Will the Step Fit' PDF.
Low Carbon Pawprint!
All our components and packaging are fabricated in the UK from widely recyclable materials. By actively supporting UK businesses, we also help to promote sustainability and reduce transportation. We're not interested in making a shiny product that sells but then goes straight to landfill.
Cat Flap Step is a premium product that's built to last!
All International Sales
Regrettably, due to rising postage costs and increased global customs regulation, we have had to end all international sales (excluding the Republic of Ireland) for the foreseeable future.
Cat Flap Step Shop
Please select the correct version of step for your specific situation.
Save 10% when you buy 2 or more steps or parts!
Free postage on all products for UK only.
For non-UK deliveries please contact us for an additional postage quotation.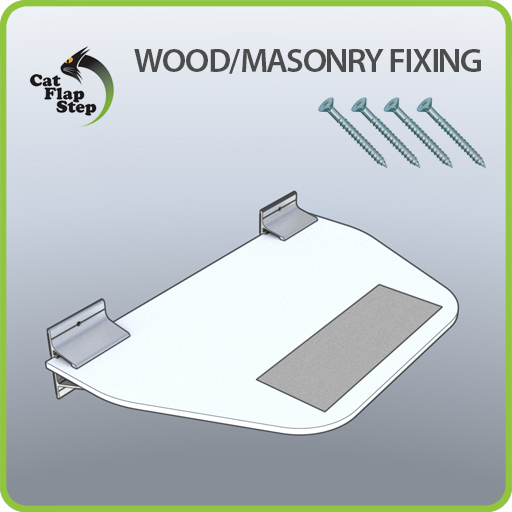 Cat Flap Step
Wood/Other fixings
£29.95
(each)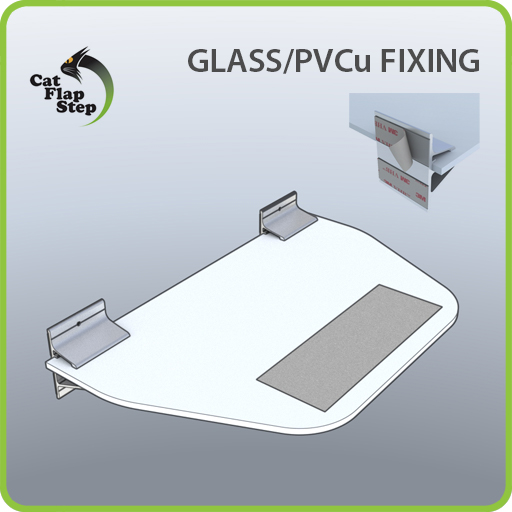 Cat Flap Step
Glass/PVCu fixings
£29.95
(each)
Product Data
Dimensions: 17.5cm deep x 24cm wide x 6cm high
Weight: 0.3kg
Materials: Anodized aluminium brackets and white UV resistant acrylic platform
Fixings: PVCu/Glass version comes with high strength VHB tape. Wood/Other version comes with x4 screws
Warranty: 12 months replacement

Replacement Parts

Customer Reviews
We have a 100% customer satisfaction rating. Please read some of our reviews.
"The Cat Flap Step arrived within 2 days and was fitted that afternoon. The product seems very well built and Toby can now easily go through the flap. Brilliant!"
"Exactly what I needed! The cat was getting stuck in the flap with all four feet off the ground. Although that made a great video, it could not carry on. All the other pet steps I saw would have been cumbersome and got in the way. These fitted so easily onto the UPVC and I can still use the door. And the cat is no longer having to pretend not to be embarrassed. Two happy customers!"
"Excellent product, cats used within minutes of installing."
"Great company, everything perfect. Step works really well."
"A great product, will buy again, cats use the step easily. Really pleased."
"Posted fast, great quality item, I Love it! Thank You!"
"Great design, cat mastered it within a day. No more boxes to trip over!"
"Nervous cat will now use cat flap without having to jump through the doorway."
"Easy to install and being used - much easier now as my cat has little legs - great!"
"I spent a fortune installing a cat flap only to find our cat couldn't reach it. This step solved the issue in a matter of minutes! Great product at a good price."